CLAIM: A Facebook page claimed that a presidential and vice-presidential aspirant in the 2022 national elections flashed a "devil's sign" to the crowd in their Bacolod City campaign rally.
Facebook page "Bbm-Sara Solid Supporters Uniteam" on Sunday shared a picture of presidential bet Vice President Leni Robredo and her running mate, Sen. Kiko Pangilinan, doing hand gestures and claimed that it was a new gimmick of the two.
"Bagong hand sign ng Pinklawan. 'Devil's Horn.' So pagkagaling sa sa simbahan at bendisyon ni Padre Damaso, 'yan ang hand sign??? Ano ba talaga, puso o laban ang sign, nanay? Naguluhan na mga alipores niyo," it wrote with a grinning face emoji.
RATING: This is false.
FACTS: Reports said that the grand rally for Robredo and Pangilinan held on March 11 in Bacolod had a section for persons with disabilities (PWD).
A youth volunteer group in the area said that there were deaf and mute volunteers who helped in the clean-up drive after the event.
Based on the photos uploaded on Robredo's Facebook page the day after the event, some attendees are from the deaf community. These were also backed by some testimonies.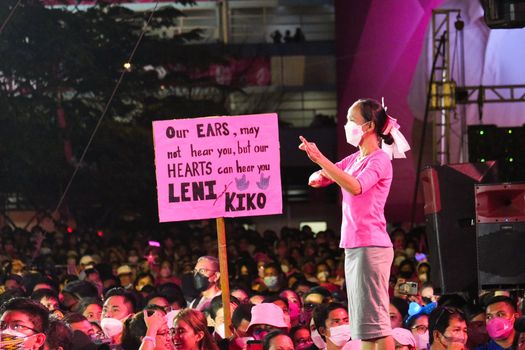 Read the full story on Interaksyon.
Related Fact Checks: