Claim
Miss Universe 2018 Catriona Gray's comment on her voter awareness vlog released Monday about a presidential bet having experience in "all three branches of the government" sparked a debate in the online community.
Some Facebook users argued that the former beauty queen was wrong in claiming Vice President Leni Robredo has experience in the government's judicial branch, which Catriona called the "judiciary" in short.
The former Miss Universe titleholder mentioned it in explaining her criteria for choosing the country's next leader, namely the qualifications of work history, sense of service, platform and values.
"And my choice for president is Leni Robredo. She is the only candidate with the experience in all three branches of the government: Judiciary as a volunteer lawyer, legislative as a congresswoman and executive as a vice president," she added.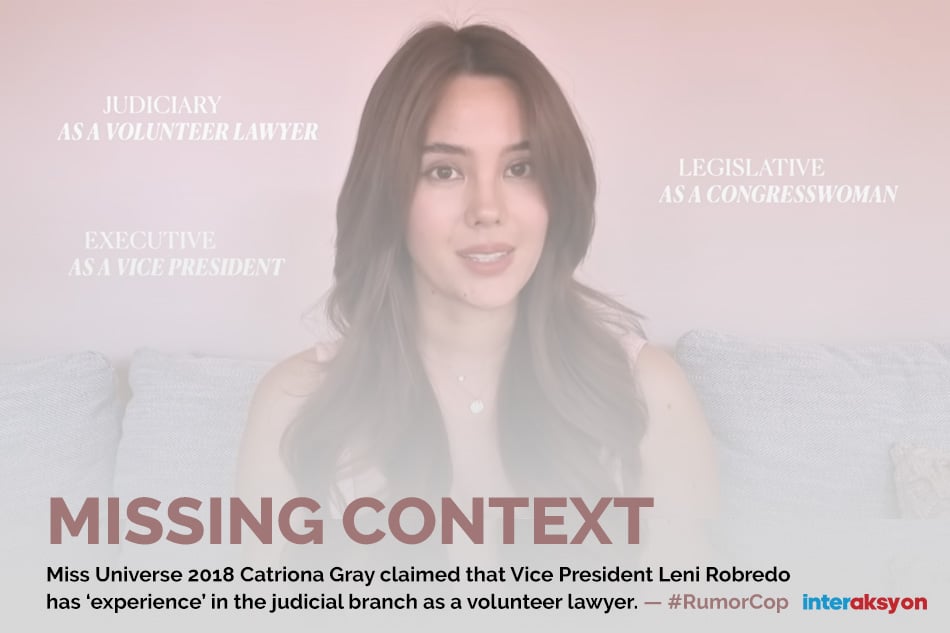 Robredo rendered legal services to the Public Attorney's Office (PAO) in Naga City from 1997 to 1999.
Meanwhile, a Facebook user who took a screenshot of Catriona's video said that PAO "falls under the executive, not judiciary."
PAO is an independent and autonomous office attached to the Department of Justice, which is under the executive branch of the government but is part of the judicial system.
Catriona Gray's claim on Robredo's "judiciary" experience as a "volunteer lawyer" under PAO has missing context.
It would be more accurate for her to say that Robredo has exposure to the three branches of government while not technically serving, or having experience, within the judiciary.
Read the full story on Interaksyon.